Ryanair has announced its biggest ever London Summer 2019 schedule, with 23 new routes (over 180 in total), which will deliver 26 million yearly passengers customers through Ryanair's four London airports – Stansted, Luton, Southend and Gatwick.
Ryanair's London S19 schedule will deliver:
3 new aircraft based at Southend
2 more aircraft at Luton (6 in total)
23 new routes including:
3  at  Stansted:   Kiev, Lviv and Nantes
6  at  Luton:       Alicante, Athens, Barcelona, Bologna, Cork, Malaga
14 at Southend: Alicante, Bilbao, Brest, Copenhagen, Cluj, Corfu, Dublin, Faro, Kosice, Malaga, Milan, Palma, Reus and Venice
Over 180 routes in total
In other news, last week Ryanair submitted a complaint to the European Commission over discrimination by UK airline controlled NATS at Stansted, who refuse to explain why 52% of all London ATC delays in Q1 were at Stansted while there was zero such delays at Heathrow and just 10% at Gatwick where (NATS' shareholders) BA and Easyjet are the main airlines.
"We call on the UK Government and EU to take prompt action against NATS who continue to deliver an atrocious service to airlines despite having amongst the highest ATC fees in the EU, and who are blatantly protecting Heathrow at the expense of all other London airports, especially Stansted. We expect the EU to act quickly to ensure a fairer allocation of NATS resources (and delays) to all 5 London airports, instead of protecting Heathrow."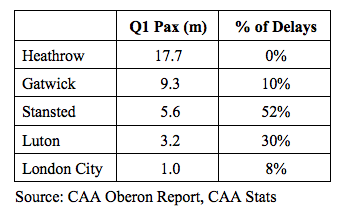 Ryanair's Michael O'Leary said:
 "Ryanair is pleased to launch our biggest ever London S 2019 schedule with over 180 routes from our 4 London airports, including 1 new base at Southend and 23 new routes to exciting destinations such as Barcelona, Bilbao,Copenhagenand Kiev. Our S2019 schedule will deliver 26m customers p.a. through Stansted, Luton, Southend and Gatwick, all at the lowest fares, as we continue to grow London traffic, tourism and jobs.   
We remain concerned at the increasing risk of a hard (no-deal) Brexit in March 2019.  While we hope that a 21-month transition agreement from March 2019 will be agreed, recent events in the UK have added uncertainty, and we believe that the risk of a hard Brexit (which could lead to flights being grounded for a period of days or weeks) is being underestimated."
In other news, the company rejected false claims made by Belgian union CNE that strike action by its small minority of cabin crew on September 28 would cause "travel chaos".
Ryanair pointed to its experience during previous strikes which included five days of strikes by less than 25% of its Irish pilots this summer, and on each of those days, Ryanair completed 280 of its 300 flights to/from Ireland, because over 75% of its Irish pilots continued to work normally.  In total yesterday Ryanair operated over 2,200 flights and carried over 380,000 customers with no "chaos".
Yesterday in Germany, despite a strike by pilots and cabin crew, over 70% of Ryanair's German based pilots and cabin crew reported for work and Ryanair completed over 250 of its daily schedule of 400 flights, because 150 flights had been pre-cancelled on Tuesday September 11 with the small group of affected passengers being reaccommodated and/or refunded.
Ryanair expects that even if there is another limited cabin crew strike on 28th September, the vast majority of its cabin crew across Europe will work as normal.  It also expects a significant majority of its cabin crew in Spain, Italy, Belgium, the Netherlands and Portugal will also work normally, as they have during previous strikes, and accordingly there will not be any "travel chaos" or "widespread disruptions".
Ryanair's Kenny Jacobs said:
"Repeated false claims made by these unions about "travel chaos" have proven to be unfounded.  While we regret the limited strike actions that have taken place this summer, in all cases we have judiciously pre-cancelled a small number of our 2,500 daily flights in order to minimise customer disruption and inconvenience.
We object to these lurid and inaccurate press headlines which wrongly refer to "travel chaos", despite the fact that during the seven days of partial strikes by a small minority of our pilots and cabin crew this summer, there has been very little disruption and absolutely no "chaos". 
 If there is a further unsuccessful cabin crew strike on the 28th Sept next then, as we demonstrated in Germany yesterday, Ryanair will pre-advise customers of a small number of flight cancellations, and the overwhelming majority of Ryanair's flights and services that day will operate as normal, and we will carry the overwhelming majority of the 400,000 passengers who will be scheduled to fly with us that day."
Top Copyright Photo (all others by Ryanair): Ryanair Boeing 737-8AS WL EI-DCL (msn 33806) (Dreamliner colors) AMS (Ton Jochems). Image: 943514.
Ryanair aircraft slide show:
x