IPP Air Cargo, Vietnam's first all all-cargo airlines is preparing to launch operations.
The new airline has received its Air Transport License but is awaiting it Air Operators Certificate (AOC) before launching operations.
The company intends to launch operations in November initially with four Boeing 737-800 BCF freighters.
The airline intends to grow the fleet to 14 aircraft.
Previously in June 202, IPPG issued this statement on the formation of the new airline:
IPP Air Cargo has just registered to establish an airline specializing in freight transport, with a VND 2,400 billion (US$ 100 million) investment, at a time when the sector is in chaos due to the pandemic. You and the aviation industry are not strangers to each other, but why did you put off joining until now?
When I noticed a spike in freight prices (according to Drewry Shipping statistics) at the peak of the pandemic, sometimes up 5 times, I became even more motivated. In terms of air freight, we had to spend three times as much on products travelling from Europe to Vietnam.
The more the demand for transportation, the higher the freight costs, while 88% of the air freight market share is held by foreign airlines. Foreign airlines are able to set their own pricing since they are nearly alone in the market, with no competition. If I do not start doing anything, the demand for air freight will remain congested, and price volatility will make it tough for domestic export-import businesses.
Currently, Vietnam lacks a specialized airline that transports goods. Domestic airlines have recently expanded freight delivery by passenger aircraft, although this is merely a short-term solution, fighting fires only for the current oversupply of aircraft.
Exporting businesses are facing serious difficulties. You won't be able to discharge agricultural, aquatic, and marine products if you don't launch the airline soon since the transportation costs are too high compared to what you can afford. Businesses are willing to pay premium rates, but they must occasionally wait in line for flights because the airline does not have enough slots. Foreign consumers from Europe and America want to buy fresh food at a higher price, but travelling by sea for nearly a month will not allow them to do so. Travelling via plane, on the other hand, takes a little over ten hours.
Therefore, I immediately thought to myself, "I can't just sit here and sell branded products to make money.", even though branded goods sold extremely well during the epidemic season. Since the customers were unable to travel overseas, we imported the new models for them to purchase, resulting in an 84 percent increase in sales.
Mr. Johnathan Hanh Nguyen – Chairman of IPPG. 
What will you do to successfully compete with international Air Cargoes, which currently take up such a large portion of the market?
Airlines are presently controlled by the aviation agreement signed by Vietnam with other countries to guarantee the balance; they are also unable to expand the number of flights on their own.
At the same time, airlines carrying international goods by air are only permitted to land at Tan Son Nhat and Noi Bai airports. After that, they must continue to arrange themselves in order to get the items to the distribution sites in alternative ways. International goods have not been delivered to all domestic airports in Vietnam.
Hence, our plan for this is to construct five logistics warehouses in Tan Son Nhat, Noi Bai, Cam Ranh, Da Nang, Can Tho, and, eventually, Long Thanh airports to carry commodities from elsewhere to these centres. Then, IPP Air Cargo will employ cargo planes to service 16 additional domestic airports.
The IPP Air Cargo project costs US$100 million, but investing in 6 hubs and 16 warehouses costs significantly more. We can't just build warehouses and counters as previously; we need conveyor belts and a sophisticated intelligent management system like other nations.
Furthermore, the General Department of Customs has consented to receive
e-commerce import and export management software, and upgrade the tax-free business networking software sponsored by our Bellazio Logistics. Currently, freight planes are required to declare each shipment separately. However, shortly, this new technology will let items swiftly pass through the inspection gate once the plane lands, shortening the declaration procedure for customs and businesses and reducing tax loss.
I understand that revolutionizing the air logistics sector would be difficult and costly. However, I do not hesitate, as I did previously in the premium market. Nobody thought of it, but I've built a reputation for bringing over 108 high-end brands from across the world to Vietnam to distribute.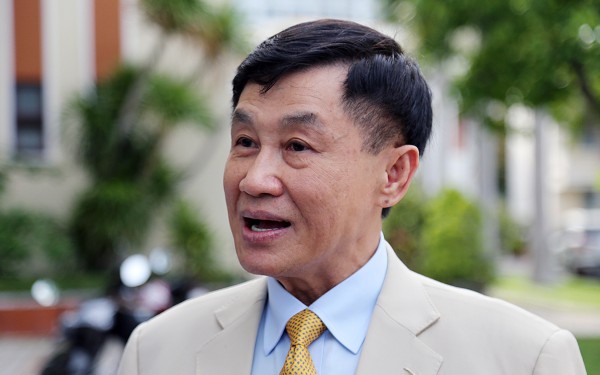 Mr. Johnathan Hanh Nguyen stated that he will be able to "fight" with the industry's giants in the sector of air freight. 
What is your vision of the revolution with the aviation logistics industry in Vietnam?
Foreign airlines only have access to two airports in the domestic market. IPP Air Cargo, which has a network of cargo planes that covers all domestic airports, is also negotiating with international airlines to continue carrying cargo to 16 airports in Vietnam.
Bellazio Logistics will be present in each location to manage small warehouses linked to IPP Air Cargo. At that point, the number of goods at airports will no longer be restricted, will rise fast as a result of the increased number of flights, and will significantly aid the development of domestic logistics firms. Consumers in all provinces, cities and rural locations may easily obtain items from across the world.
In terms of the global market, IPP Air Cargo will invest in a larger aircraft system as well as collaborate with other international airlines to transport commodities from overseas to Vietnam. Exporting vegetables, fresh food, and other essential import and export items will be carried directly at that time, rather than circumnavigating numerous ports at exorbitant prices as it is today.
Honestly, foreign air cargo carriers are also ecstatic about this news since, according to the International Aviation Agreement, the number of domestic cargo aircraft going out will boost the number of incoming flights. When IPP Air Cargo enters this market, international airlines may lose around 38 percent of their market share (based on our calculations), but their cargo volume will grow by about 50 percent due to more flights.
What have you prepared for the airline?
For the past six months, IPP Air Cargo has meticulously prepared. The airline is scheduled to begin domestic freight flights three months after the flying licence is issued, followed by international flights.
I take my time with everything. There are projects that require me to come up with ideas, concepts and plans for 10 years before they can be implemented, rather than just waiting for the water to reach my feet. I have many years of expertise in this field, so when the time comes, I want to grasp the opportunity as soon as possible. I'll miss the potential chance if I don't come out at the proper time.
The passenger aviation industry is challenging at this point, but creating a freight airline offers numerous advantages.
When it was announced that the IPPG had established an airline, up to six airlines selling and leasing aircraft approached, driving the price down further. Pilots are available during this time, in contrast to the pre-epidemic period. Our company has also received hundreds of applications for various roles in this project. Furthermore, unlike a passenger airline, a cargo airline does not have to spend as much money on things like service, ticket sales, marketing, etc.
According to the plan, IPP Air Cargo wants to operate 5 cargo aircraft in the first year, then 7 aircraft in the second year, and 10 aircraft in the third year. The airline intends to fly cargo as soon as feasible and expects to be profitable in three years.
When speaking out, it seems that everything is going smoothly, but the reality is always different. What about the challenges of this aviation game, sir?
Difficulties will arise for individuals who are new to the profession and do not fully comprehend it. I've been in the industry for 36 years, so I'm familiar with the market's advantages and disadvantages.
Since 1985, I've worked with three industry titans: FedEx, DHL, UPS, and Philippines Airlines to transport presents from expatriates and humanitarian aid from around the world to Manila (Philippines). Following that, I proceeded to rent planes to transport individuals back to Vietnam and coordinate distribution through distribution centres.
I also served as the General Representative of Philippines Airlines in Indochina, overseeing passenger and cargo flights as well as functioning as a financial inspector of Boeing Subcontractors. As a result, I am fully aware of the expenditures associated with running an aeroplane.
This air freight industry is also extremely risky, and not just because the market is competitive. Prior to IPP Air Cargo, there were other names that reignited their objectives but then had to abandon them since the market was not ready at the time. Newcomers will suffer greatly, and if it were simple, domestic airlines would have done it.
However, I guarantee that whatever I do is done properly and with all my heart. I'll figure out a way to defeat the giants. In the future, I believe the market will grow more open and friendly-competitive.