Spirit Airlines today announced the completion of its terminal move at LaGuardia Airport (LGA) with all Spirit flights now calling Terminal A home. Over the past year, Spirit maintained a split operation between Terminal C and Terminal A, also known as the Marine Air Terminal.
The move has enhanced the LGA Guest experience with all flights now consolidated in one of the most convenient locations at LaGuardia. Additionally, the move also benefits Guests by streamlining Spirit's operation at the airport.
Spirit Airlines at LaGuardia Airport:
| | |
| --- | --- |
| Destination | Frequency |
| Nashville (BNA) | 1x daily |
| Dallas Fort Worth (DFW) | 1x daily |
| Detroit (DTW) | 1-2x daily |
| Fort Lauderdale (FLL) | 4x daily |
| Los Angeles (LAX) | 1x weekly (Saturday only) |
| Orlando (MCO) | 1-2x daily |
| Miami (MIA) | 2x daily |
| Myrtle Beach (MYR) | 2x daily |
| Phoenix (PHX) (Seasonal through 4/16/2022) | 1x weekly (Saturday only) |
| San Juan (SJU) | 1x weekly (Saturday only) |
| Tampa (TPA) (Seasonal through 5/4/2022) | 1x daily |
The Marine Air Terminal was built in 1939 and is one of two passenger terminals in the country remaining from the first generation of air travel. The terminal is also home to a massive 12-foot-high, 235-foot-long mural "Flight" by James Brooks that encircles the interior wall of the terminal's rotunda and tells the story of human flight.
From the National Park Service:
The Marine Air Terminal at La Guardia Airport in New York City remains the only active airport terminal dating from the first generation of passenger travel in the United States–the "Golden Age of the Flying Boat." The Marine Air Terminal, an Art Deco building designed in 1939 by William Delano of the firm Delano & Aldrich, is comprised of a central circular core of two stories with an attic from which a rectangular entrance pavilion and two symmetrically opposed one-story wings project. Inside the terminal hangs "Flight," a mural measuring 12 feet in height and 237 feet in length. Completed by James Brooks in 1940, "Flight" depicts the history of man's involvement with flight.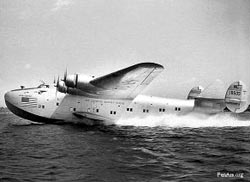 By the early 1930s, commercial airlines and airports were developing due to the Federal government's use of private contractors for postal transport and Charles Lindbergh's famous transatlantic flight. New York was in dire need of a new airport by 1934 when Fiorello H. La Guardia was elected mayor. Plans for the airport, which was to be federally sponsored and funded through the Works Progress Administration (WPA), were approved by President Roosevelt on September 3, 1937. Only six days later, the Mayor presided over groundbreaking ceremonies and construction proceeded rapidly. At 558 acres with nearly four miles of runways, the $40,000,000 airport was the largest and most expensive in the world. New York City Airport–La Guardia Field opened on October 15, 1939 and the Marine Air Terminal was dedicated in March 1940. The first flight from the Marine Air Terminal by a Clipper departed on March 31, 1940, carrying a crew of 10, nine passengers and over 5,000 pounds of mail and landed in Lisbon 18 hours and 30 minutes later. These Clippers–with a wing span of 152 feet, a cruising speed of 200mph and a capacity to carry 72 passengers–were luxurious. The two-deck interior featured dining rooms, private compartments and sleeping sections. However, this glamorous era of the Clippers was brought to an abrupt halt by the outbreak of World War II. By the end of the war, technological advances in airplane design had made the Clippers obsolete and the Marine Air Terminal was converted for the newer airplanes. Today the Marine Air Terminal is used by commuter airlines, air taxis, private aircraft, Signature Flight Support (a fixed-base operator) and a weather service.