airBaltic has issued its thirteenth NFT (non-fungible token) edition of the airBaltic City Collection has been issued on OpenSea marketplace for a fixed price of 0.1 Ether. A total of 10 new unique collectibles of the airBaltic City Collection can now be purchased: https://opensea.io/airBaltic.
The thirteenth airBaltic issue is a digital art piece with one of the most beloved Latvian cities Jūrmala, a resort city which is the home to sandy beaches, one of the most popular concert halls in Latvia – Dzintari Concert Hall, as well as to the sculpture Bruņurupucis, which symbolizes long life. In honour of Latvia's centenary, in 2018, airBaltic invited everyone to vote on their favorite towns and cities in Latvia, after which the company's Airbus A220-300 fleet was named.
On April 14 2021, Latvian airline airBaltic became the world's first airline to issue non-fungible tokens (NFTs). The airline issued limited collector NFTs, showcasing an individual Airbus A220-300 with its registration as well as a piece of art of Kuldīga, one of the most beloved Latvian cities. Following the first edition airBaltic has issued twelve more digital art pieces honouring beloved Latvian cities Cēsis, Alūksne, Liepāja, Bauska, Sigulda, Jelgava, Ogre, Valmiera, Gulbene, Smiltene, Līvāni and now Jūrmala. 
As previously informed, in May 2022 airBaltic announced a new NFT (non-fungible token) collection called Planies, consisting of 10 000 unique cartoon aircraft designs. The NFT holders of the collectables will be able to receive airBaltic Club points and other loyalty program benefits. Owners of the airBaltic City Collection NFTs will be able to receive Planies NFT free of charge.
Above Copyright Photo: airBaltic Airbus A220-300 (Bombardier CS300 – BD-500-1A11) YL-CSM (msn 55042) FCO (Richard Vandervord). Image: 954324.
More from the airBaltic blog:
airBaltic – the world's first airline to issue non-fungible tokens (NFTs), releases its next edition (#13) in airBaltic City collection. Each of the limited collector NFTs is a digital art piece showcasing an individual Airbus A220-300 with its registration and one of the most beloved cities of Latvia to promote tourism and Latvia in the world. Previous cities features have been Kuldīga, Cēsis, Alūksne, Liepāja, Bauska, Sigulda, Jelgava, Ogre, Valmiera, Gulbene, Smiltene and Livani. All airBaltic NFTs have been issued on the OpenSea marketplace and are placed in Metaverse 3D gallery.
Edition 13 is showcasing an individual Airbus A220-300 and Jūrmala.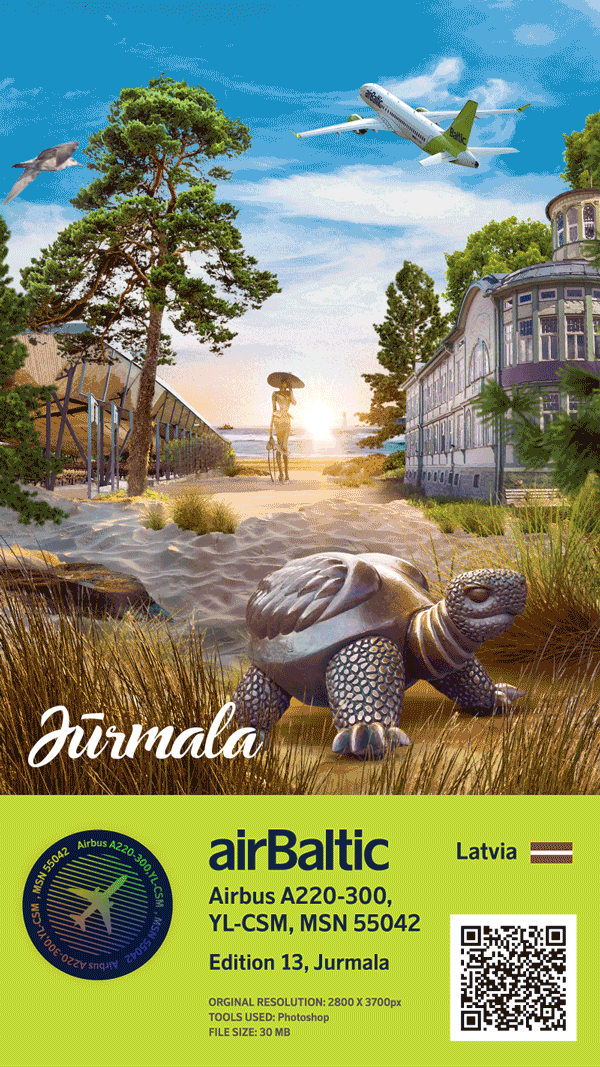 Discover Jūrmala
The swelter of summer is the right time to swap the city for the beach. Those who like historical charm and being around people should head for the Latvian seaside resort city of Jūrmala. Often called the Northern Riviera, Jūrmala's swimming and sun-bathing culture is centuries old. Its unique wooden architecture calls to mind the spa culture of the 19th century, and the white-sand beaches stretching for almost 26 kilometres are full of life and energy. Here are the best things to do in Jūrmala.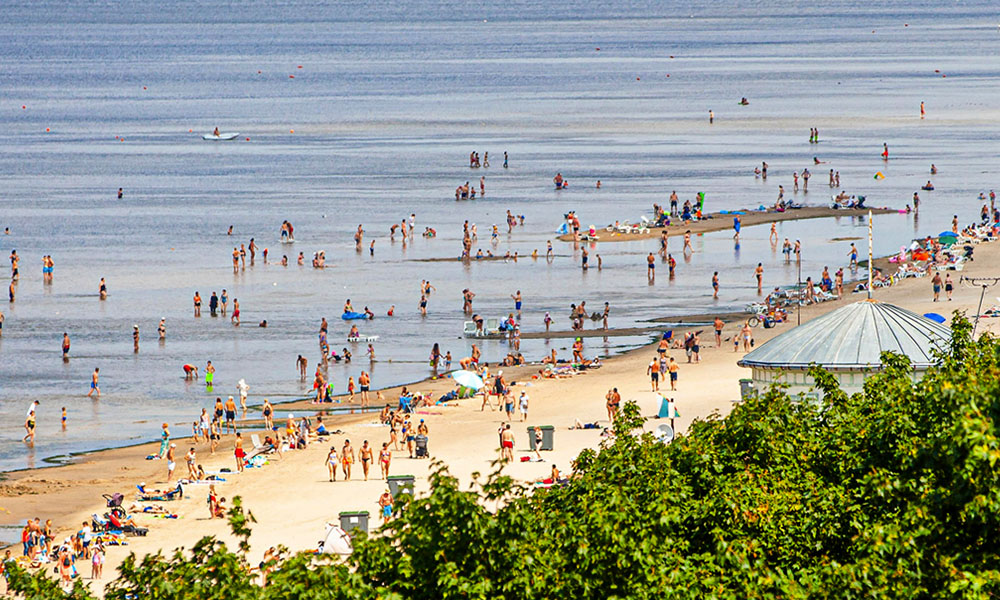 [googlemaps https://www.google.com/maps/embed?pb=!1m18!1m12!1m3!1d9330572.995793669!2d13.060718540991585!3d54.484291332318215!2m3!1f0!2f0!3f0!3m2!1i1024!2i768!4f13.1!3m3!1m2!1s0x46eedd07e8a104d3%3A0x78537e586c6c16df!2zSsWrcm1hbGE!5e0!3m2!1slv!2slv!4v1657277284803!5m2!1slv!2slv&w=600&h=450%5D
Where to find history
The history of the Baltics' largest resort town stretches back more than 200 years. The best place to learn more about Jūrmala is at the Jūrmala Museum, which contains 50,000 artefacts, including the largest swimwear collection in Latvia. The collection consists mainly of women's swimsuits from the 20th century, because women have generally been more active in both buying and wearing swimsuits.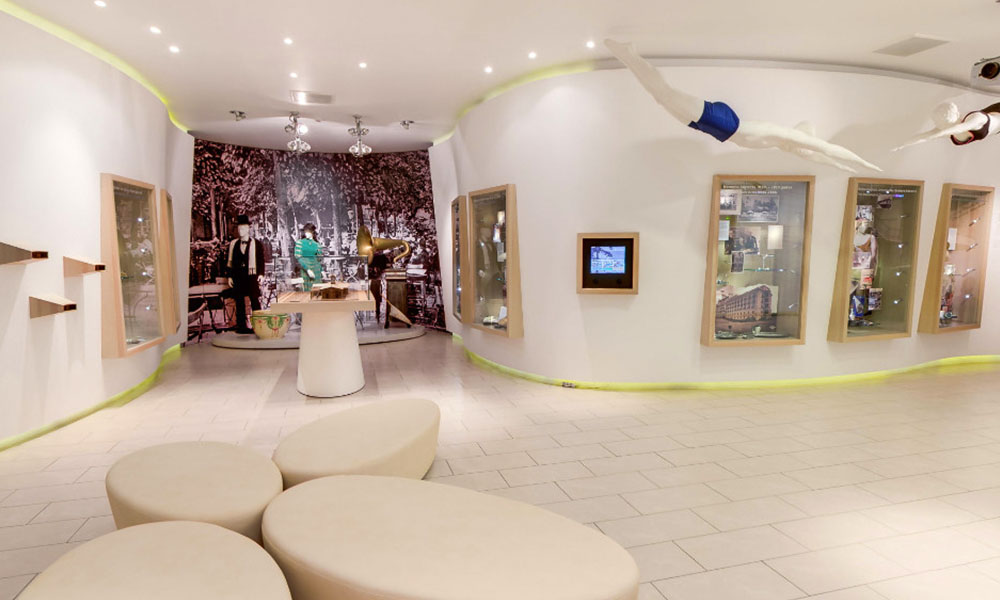 Must-see sites
For years, Jūrmala has been known not only for its healing resources but also for its historical architecture. Many of the buildings in the city are protected as historical landmarks. They represent a whole range of styles, from Art Nouveau, national romanticism, and classical architecture to modernism and Soviet functionalism. Discover hidden gems of Jūrmala's architecture on a bicycle – routes can be found at visitjurmala.lv.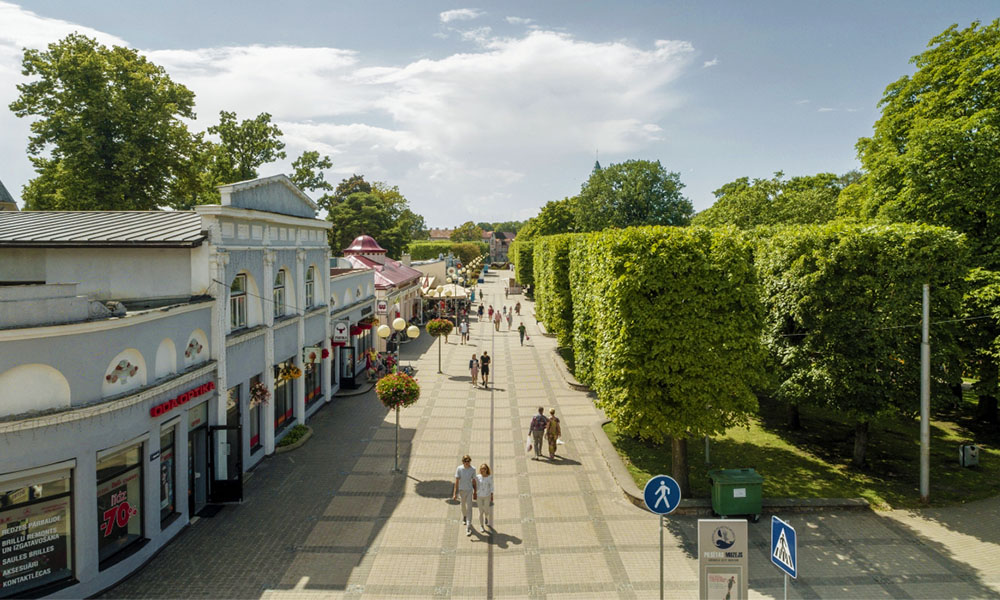 What to do
Enjoy a spa! Jūrmala's spa and resort industry stretches back to the late 18th century. The entire Jūrmala area is considered a natural spa. The gentle, ionised seaside air heals the respiratory tract and strengthens the immune system, and the aroma of the surrounding pine forests has a soothing effect on the emotions. The sulphur, bromide, and sodium chloride-rich mineral waters hidden in the subsoil as well as the healing sapropel mud found in the area's lakes are still today used in the treatment programmes offered by most of the city's resort hotels and rehabilitation centres. The amber stone massages are also a favourite.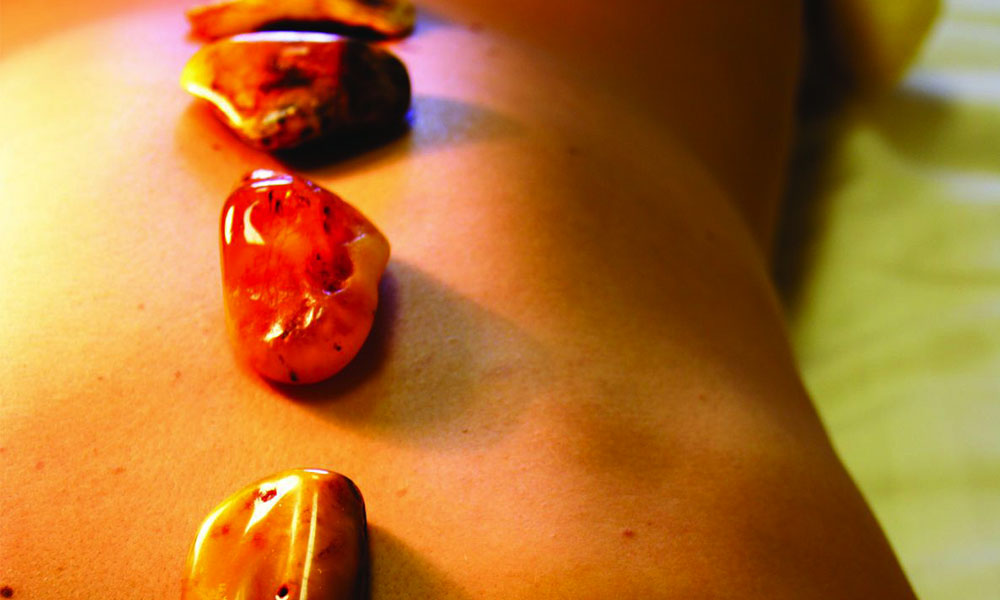 Where to find the best view
Last summer saw the opening of the highest viewing platform in the region accessible to the general public – the Ķemeri Water Tower. Due to the surrounding sulfur springs with healing properties, Ķemeri is the part of the city of Jūrmala where resorts began popping up as far back as the 18th century. The 42-meter high Ķemeri Water Tower is located in the historic Ķemeri Resort Park. 220 steps lead up to the viewing platform featuring breath-taking views of the restored park and rose garden. Built in 1929, the water tower also currently contains an exhibit on the history of the resort. A prior reservation is required to access the water tower's viewing platform.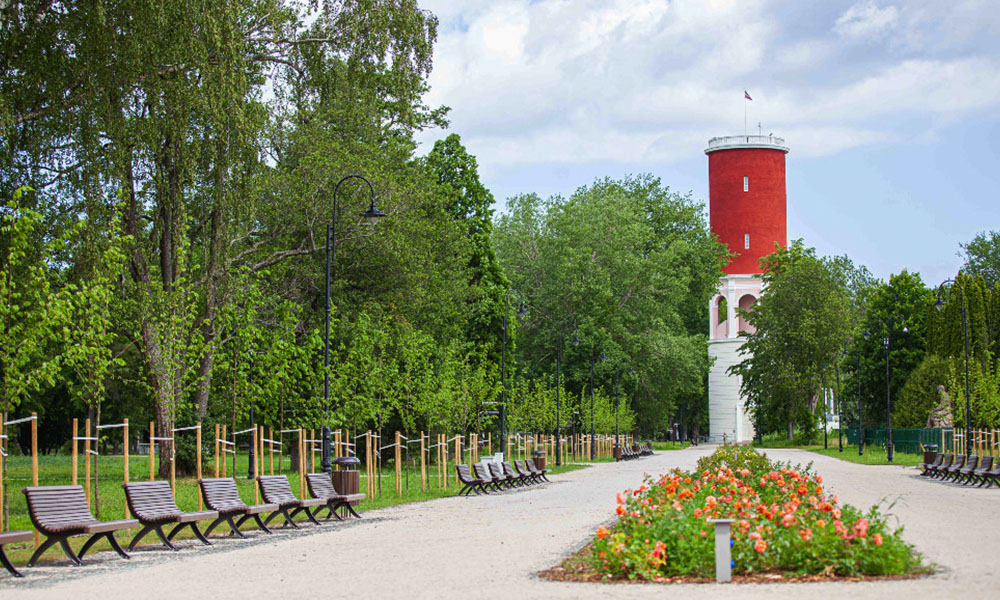 Where to hear legends
Jūrmala inspired many of Latvia's greatest poets, including Rainis (1865–1929) and Aspazija (1865–1943). Enjoy peace and quiet at the historic summer house of Rainis and Aspazija, which is now a museum dedicated to the two poets. The couple loved to spend their summers there — surrounded by pine trees, the tranquil charm of the resort town will most likely cast its spell over you during your visit as well. The summer house boasts authentic household objects that help visitors truly feel the aura of the time when the literary giants wrote their greatest works. Audioguides are available.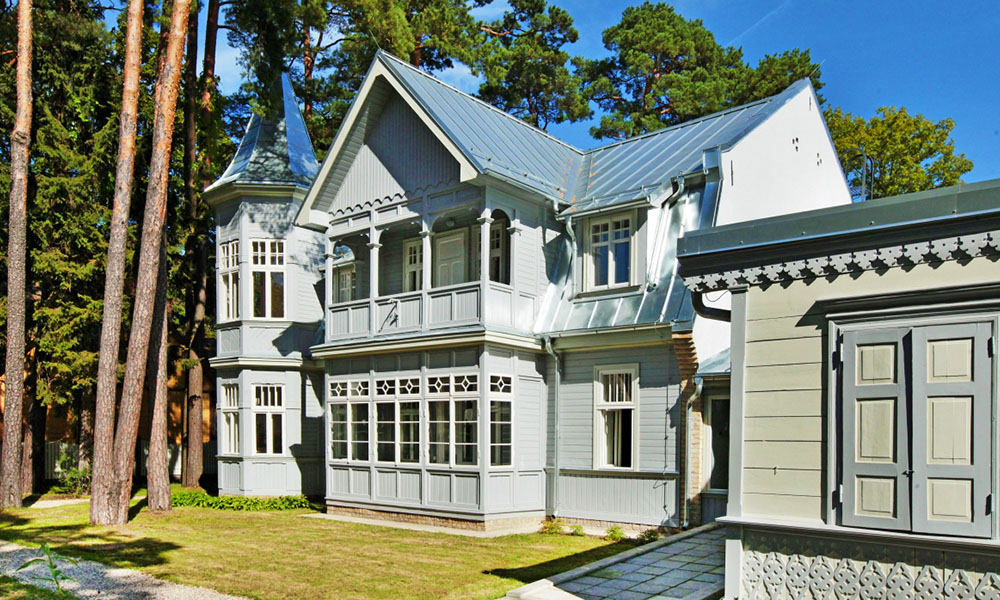 Another interesting site to visit is the House of Aspazija, which is where the poet spent the last ten years of her life. Behind the charming facade of the house lies the most unusual museum in Jūrmala — it virtually allows visitors to travel back in time to the 1930s. This feeling is created by the interior, which has been meticulously preserved to correspond to the era and includes a magnificent guest salon, cosy verandas, original works of art, and narrow wooden stairs. With the help of digital technologies, the museum allows you to meet the poetess herself as well as her eternal companions – cats. Audioguides and guided excursions are available.
Where to enjoy culture
Jūrmala's historical stages and gardens have delighted audiences with open-air concerts for over a century. Even today, guests can enjoy music at the open-air Dzintari Concert Hall as gulls call in the distance and the sun provides natural lighting and stage design. The venue hosts not only classical and popular music concerts but a variety of festivals as well. It's worth following along to see what cultural events are going on at Dzintari Concert Hall while you're in the area.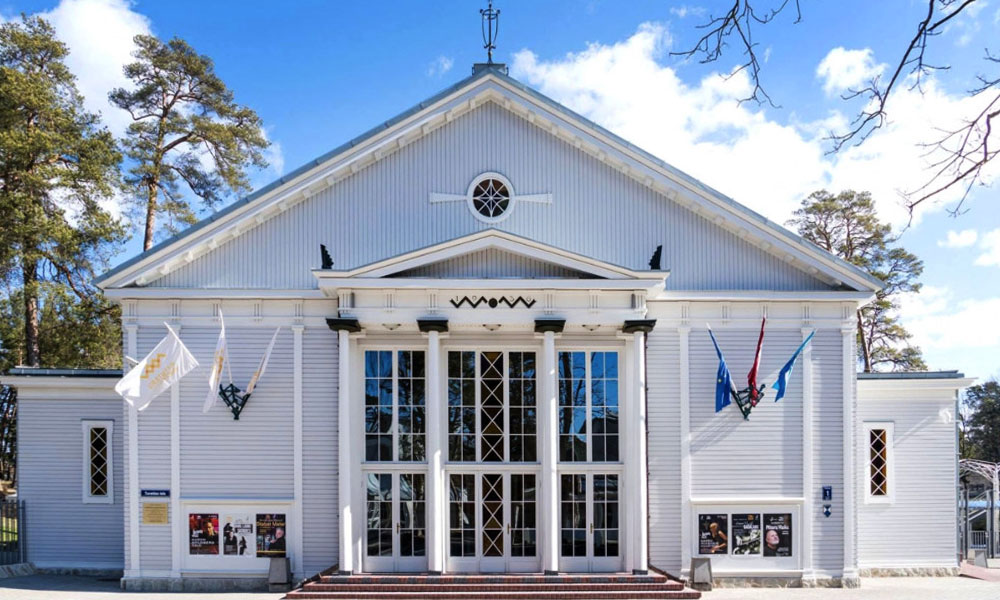 With the recent restoration of the stage in Melluži Park, originally built in 1930, the residents of Jūrmala now have a new venue for cultural events. The stage is one of two wooden acoustic shell-shaped open-air stages in the entire Baltic region to have survived from the 20th century. It's also an Instagrammer's dream location.
Where to get adrenaline
Jūrmala offers many great sporting activities, but tennis has always occupied a special position in this resort city. Among the several high-level tennis courts here, one sports complex is most definitely worth a visit. After an extensive reconstruction, the Lielupe Tennis Centre reopened in December of 2019 and is now considered the most modern tennis centre in the Baltics. In fact, this iconic place was first reported on in the media as far back as 1932.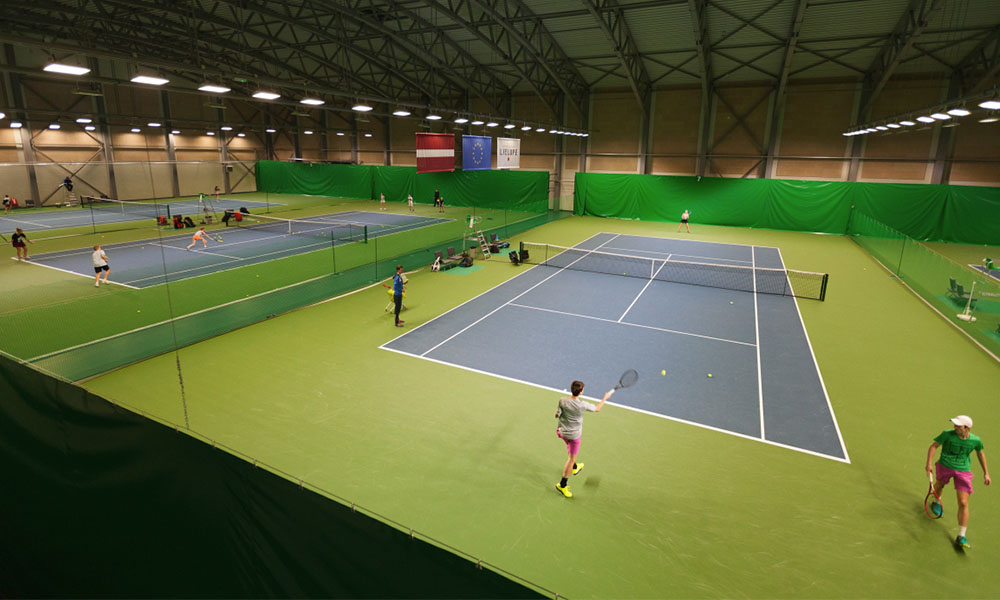 Where to go with children
If building sandcastles and splashing in the surf on the natural beach is not enough for you, even more water and fun can be experienced at the Līvu Akvaparks water park. One of the largest water parks in northern Europe, it features slides of varying difficulty, a flowing "river", saunas, jacuzzis, and a myriad of other exciting attractions.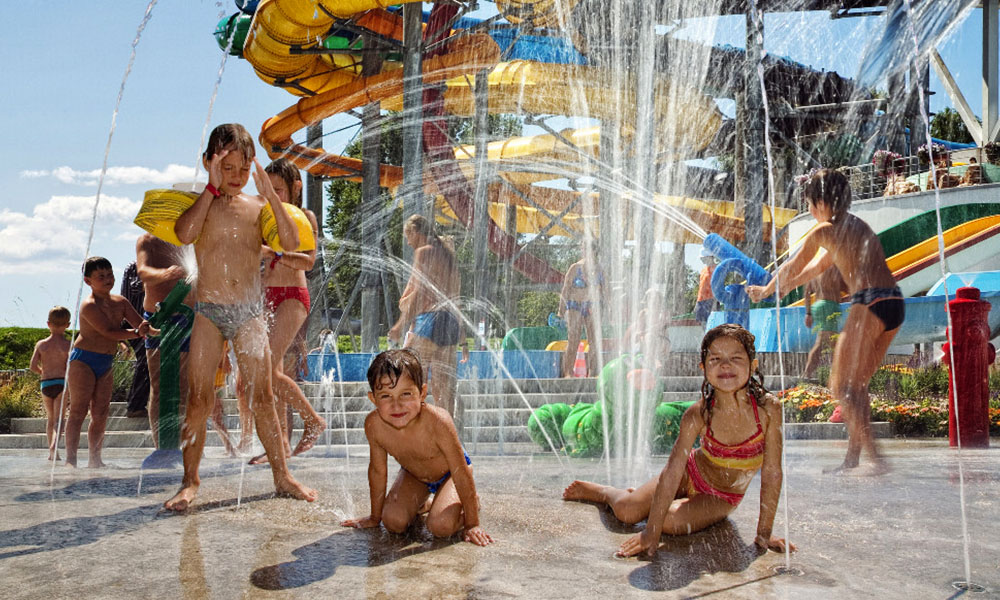 If water is not your thing, try a visit to the Dzintari forest park — it features a viewing tower, playgrounds for children of various ages, rollerskating paths, a skatepark, and streetball courts. Two of the most popular attractions here are the Jūrmala Net Adventure Park and the Jūrmalas Tarzāns adventure park. Here you can climb and crawl in nets and tunnels hanging among the trees six metres above ground, slide down a zipline, or clamber up and down chutes and ladders to your heart's content.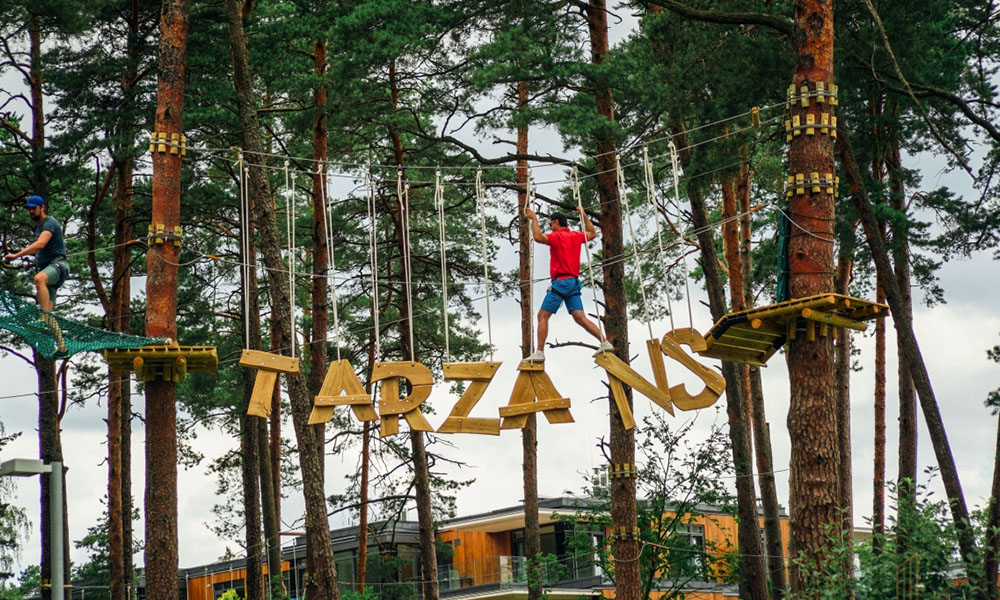 Where to enjoy nature
Experts estimate that bogs cover about 5% of Latvia's land, and approximately 70% of those bogs remain relatively untouched and unspoiled. With their colours, scents and otherwordly mood, Latvian bogs are truly a magical place. Nowadays, of course, it's possible to explore a bog and still keep your feet dry. The boardwalk through Great Ķemeri Bog is the most popular destination in Ķemeri National Park and lets visitors enjoy this unique raised mossy bog with ease. This particular bog is approximately 8000 years old and contains a labyrinth of small elongated lakes and pools that add to its gentle beauty. It's especially magnificent at sunrise, so it's definitely worth getting up early and taking along a thermos with hot tea to catch those first rays of the day. The boardwalk at Ķemeri is 3.4 kilometres long.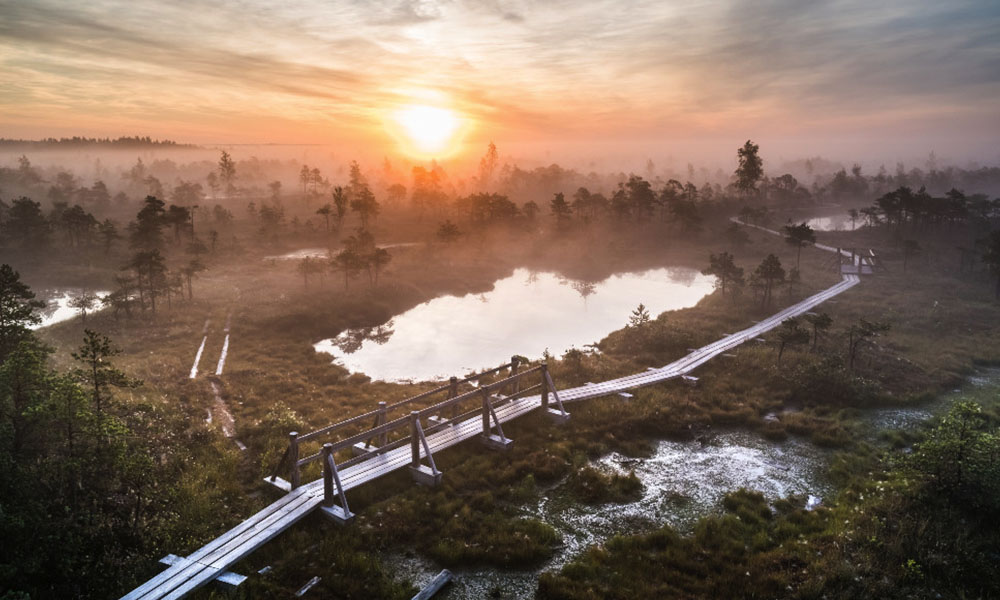 Where to dine
Gastronomic pleasure-seekers must first decide what kind of atmosphere they want to dine in. The heart of Jūrmala is Jomas iela, a pedestrian street lined with countless restaurants and cafés. It's been a popular meeting, walking and hanging-out place for visitors and residents of the resort town since the 19th century. For a more relaxed atmosphere, restaurants and cafés on the beach or by the Lielupe River are also worth a look.
One of the truly best spots on Jūrmala's dining scene is the Bar & Grill 36. Line restaurant run by Lauris Aleksejevs, one of Latvia's most well-known chefs. According to customer reviews, everyone in Jūrmala glowingly recommends this place. Bar & Grill 36. Line is right on the beach, which means it has a fantastic view of the sunset. The restaurant has an open kitchen and open flame grill, with fresh ingredients and produce for grilling supplied by German and French gourmet markets.
Another classic Jūrmala eatery, albeit a luxury one, is the Light House Jūrmala restaurant. It's also located on the beach, so it features a slightly more peaceful atmosphere with a view of the strand and the sea that is absolutely stunning. On the menu you'll find Mediterranean cuisine, seafood, and dishes featuring vegetables and juicy meats prepared on a Spanish "Josper" grill.
Where to stay
Many people associate Jūrmala with a place where they can enjoy peace and tranquillity without having to give up a pleasant level of comfort and various entertainment options. This concept is also embodied by the city's wide-ranging accommodation options for tourists —  from budget-friendly campsites and small but sophisticated boutique spa hotels to luxurious hotels with full spa and fitness programmes.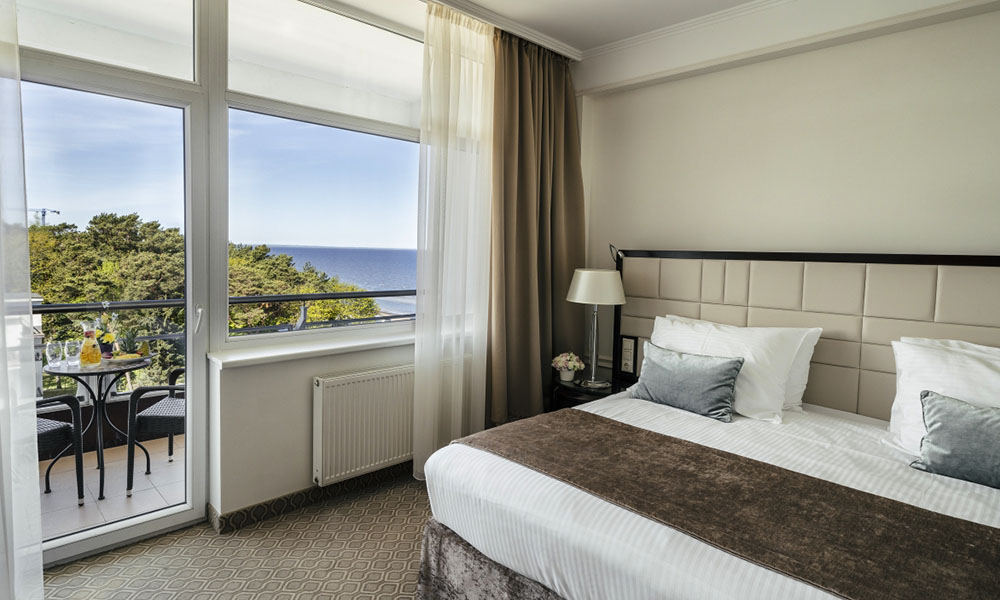 For example, the 5-star Baltic Beach Hotel & SPA is located directly along the beach and is surrounded by lush pine-trees. Its relatively secluded location amidst the dunes provides a peaceful sense of retreat, great views, and a private beach. Another option is the 3-star Villa Joma, which exudes the charm of old Jūrmala seeing as its small wooden building has served as a hotel in the very centre of town since it was first built. Both the facade and the interior reflect the famous wooden architecture that is unique to this seaside town, allowing you to enjoy an unforgettable stay in a place with a cultural history and natural environment like no other.
Read more about Jūrmala at visitjurmala.lv
airBaltic aircraft photo gallery: